Gas Appliance Application Note

Carbon monoxide is a by-product of combustion, present whenever fuel is burned. It is produced by common home appliances, such as gas or oil furnaces, gas refrigerators, gas clothes dryers, gas ranges, gas water heaters or space heaters, fireplaces, charcoal grills, and wood burning stoves. Fumes from automobiles and gas-powered lawn mowers also contain carbon monoxide and can enter a home through walls or doorways if an engine is left running in an attached garage.
All of these sources can contribute to a carbon monoxide problem in the home. If a home is vented properly and is free from appliance malfunctions, air pressure fluctuations or airway blockages, carbon monoxide will most likely be safely vented to the outside. But in today's "energy efficient" homes this is frequently not the case. Tightly constructed homes can trap carbon monoxidepolluted air in a home year-round. Furnace heat exchangers can crack, vents can become blocked, inadequate air supply for combustion appliances can cause conditions known as backdrafting which forces contaminated air back into the home. Exhaust fans on range hoods, clothes dryers and bathroom fans can also pull combustion products into the home.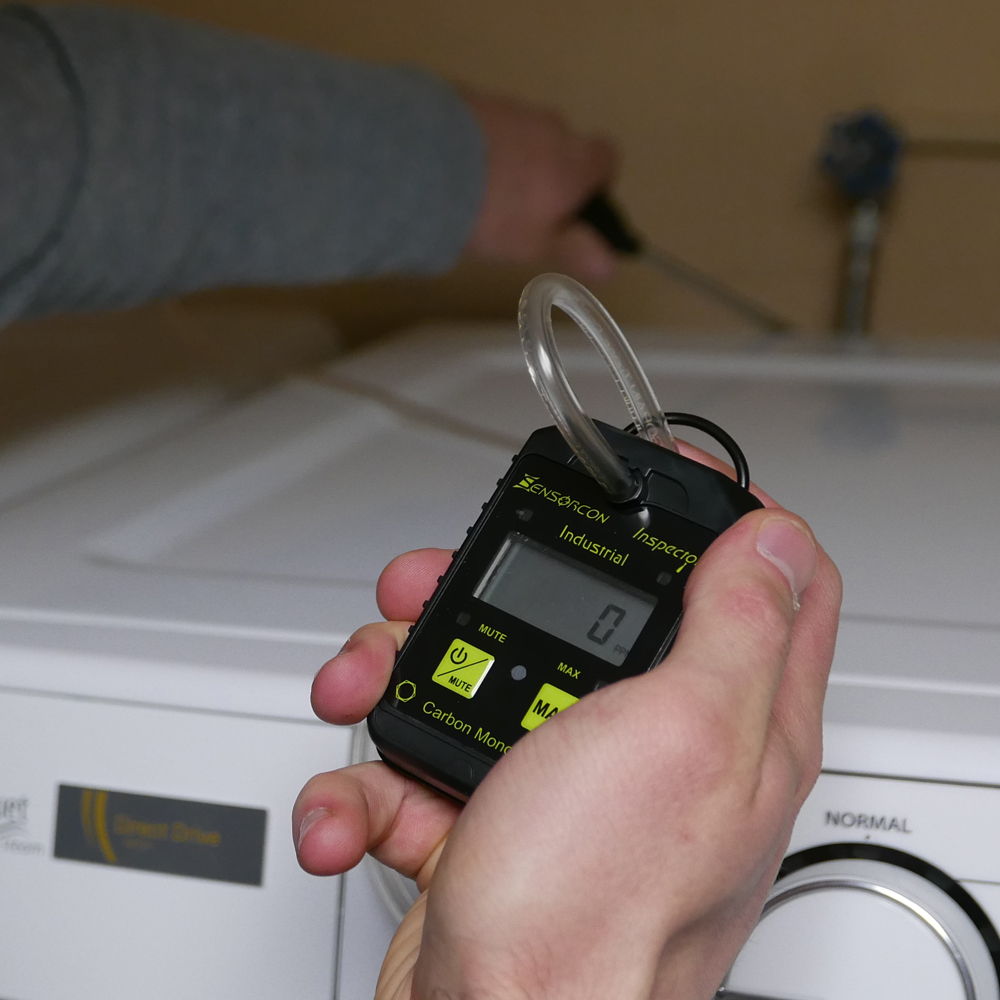 Install a carbon monoxide Detector-The Consumer Product Safety Commission (CPSC) recommends installing at least one carbon monoxide detector per household, near the sleeping area. Additional detectors on every level of a home and in every bedroom provide extra protection. Choose an Underwriters Laboratories Inc. (UL) listed detector that sounds an audible alarm. You can choose a model that is wired to your home's electrical system, a model which plugs into a standard electrical outlet, or a battery-operated model. Battery-operated carbon monoxide detectors continue to protect even in the event of a power outage.
Gas appliances should be serviced yearly by a qualified service technician. Stove burners should be cleaned and adjusted to minimize the amount of carbon monoxide produced. Before making changes to a house that might affect the ventilation of fuel-burning appliances, contact your heating contractor. When replacing heating appliances, purchase appliances designed to reduce dangers from carbon monoxide, such as sealed combustion gas furnaces, direct vent gas fireplaces, or induced draft gas water heaters. Electric-powered heating appliances do not produce carbon monoxide.
If your carbon monoxide detector sounds, first make sure it is your CO detector and not your smoke detector. The latest generation of carbon monoxide detectors listed with UL will be marked "carbon monoxide detector" in a contrasting color on the cover.
Some detectors feature a warning alarm which will sound before the full (continuous) alarm. If your detector is in warning alarm, carbon monoxide is beginning to accumulate. It is important to locate and eliminate the source of carbon monoxide before the condition worsens. A trained HVAC contractor or appliance service technician can inspect your home to determine the cause of carbon monoxide build-up.
WHERE TO LOOK FOR SOURCES OF CARBON MONOXIDE:

Furnaces are the main source of leaks, the following should be checked.

Measure the concentration of carbon monoxide in the flue gases.
Check furnace connections to flue pipes and venting systems to outside of the home for signs of corrosion, rust, gaps, or holes.
Check furnace filters and filtering systems for dirt or blockages.
Check all other appliances that use flammable fuels such as natural gas, oil, wood, or kerosene. These appliances include water heaters, clothes dryers, kitchen ranges, ovens or cooktops, wood burning stoves, gas refrigerators.
Barbecue grills should never be operated indoors, nor should stove tops or ovens that operate on flammable fuels ever be used to heat a residence.
Check fireplaces for closed, blocked or bent flues, soot, and debris, and check the clothes dryer vent opening outside the house for lint.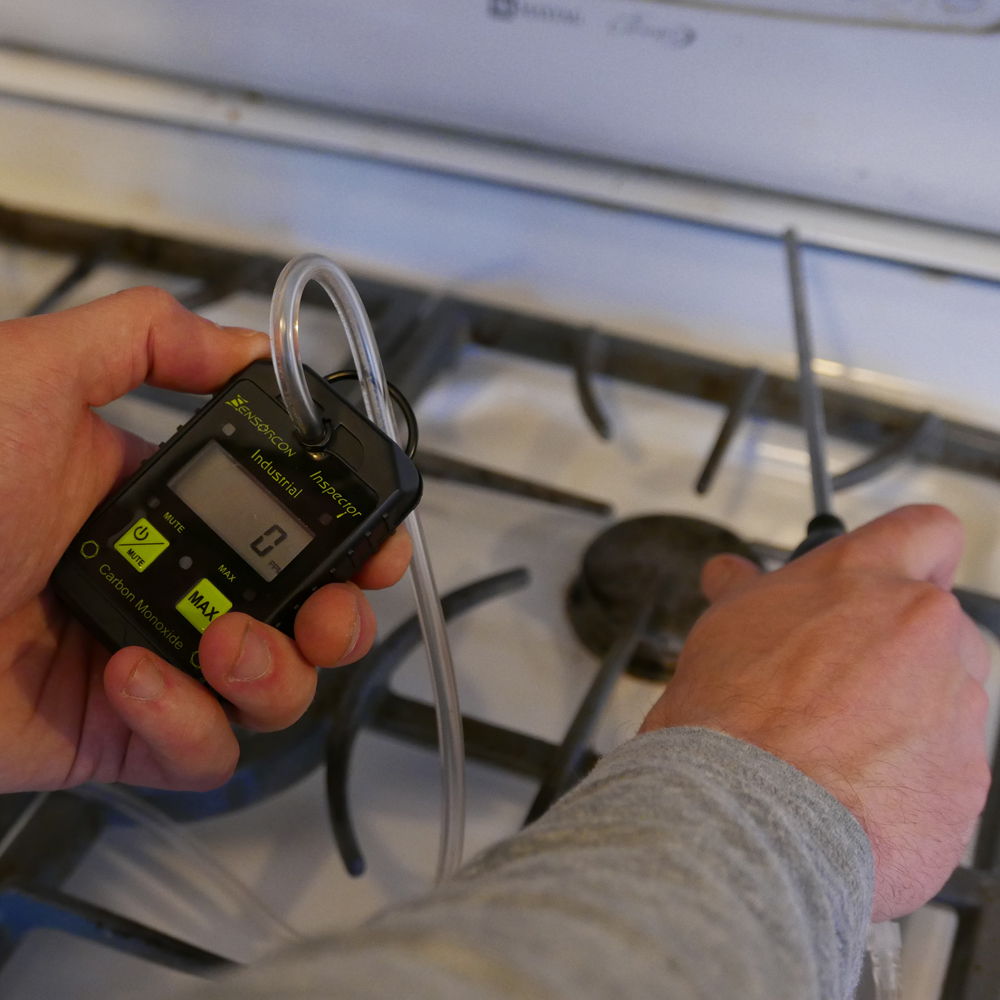 REASONS WHY CO MAY NOT BE FOUND:
Testing equipment used to measure the presence of carbon monoxide in the air must be calibrated to sense low levels of gas concentration, Some detection devices only measure concentrations of 1,000 parts per million and higher, significantly above safe levels. Testing equipment should be capable of sensing levels as low as one part per million. All of Sensorons carbon monoxide Meters have a range of 0-2000ppm.
If initial readings don't reveal sufficient concentrations of carbon monoxide to set off the alarm, digital measurement testing equipment that produces a 24-hour record can be used to help identify the source, our Industrial Pro carbon monoxide Meter offers this function.
Please feel free to learn more about the effects of carbon monoxide in our online support section. There you will find useful data about the facts and myths of carbon monoxide. Also feel free to reach out to us and speak with one of our cutomer service technicians for more information.
Sensorcon is dedicated to creating durable, high quality environmental sensor products to meet the most demanding of domestic, professional and industrial needs. We proudly have over 10 years of experience in sensor integration and design with all of our products manufactured in the USA. In addition to this, you can easily purchase our products directly from the Sensorcon online store.
Whether its portable single gas meters to detect carbon monoxide in your home or complex PCB and sensor integrations into industrial networks. We have the experience and capability to deliver solid and reliable environmental data wherever and whenever you need it.
CLICK HERE FOR A PDF DOWNLOAD OF THIS PAGE
FOR FURTHER INFORMATION PLEASE REFER TO OUR APPLICATION NOTES:
HOT WATER TANKS AND CARBON MONOXIDE
ALSO PLEASE REFER TO OUR INDUSTRY SPECIFIC PAGE:
For more information please contact our sales department!
Monday Through Friday - 8am to 4pm
Phone: 1-716-566-2728       E-Mail: sales@sensorcon.com      Website: www.sensorcon.com